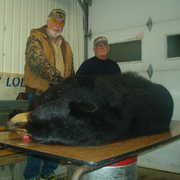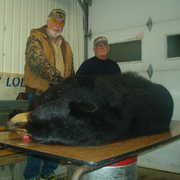 5 Day Spring Bear Hunt
5 Day Spring Bear Hunt at New Brunswick (NB) is a Big Game Hunt on 

private land

that starts on April until August.We are hunting 

Bear and Black Bear

.

Costs from

 $2,000.00

 to

 $2,500.00

.
Description
Our Spring Bear, Bird Hunting or Coyote Packages include your guide, delicious home-cooked meals, 6 nights accommodation in our comfortable lodge, gate fees and transportation to & from the hunting area. Licenses and Taxes are extra. Licenses are available on site. We hunt on 2,000 square miles (5,000+ sq. Km) of controlled-access land. Grouse, Woodcock and Duck hunting is excellent. Our success rate runs from 80-90% for Black Bear! We have exclusive bear baiting rights on the largest private hunting area in the province. In our bear baiting area many Bear are taken in the traditional "Boone" and "Crockett" class each year. Our bear licenses are allocated and we will guarantee you a bear license.
Pricing Details
5 days/6 nights Package
Price: $2,500 per hunter Deposit: $500
Non Hunting Guest: $500 Second bear $500
Terms & Conditions
Payment Information
Hunt Packages are non-refundable
Credit cards. Cash and Checks only
Cancellation Policy
Cancelled hunts are not refunded, but a Holdover may be possible Gratuities
Customary, but not required
Guides: 10-15% of the hunt price
Cook: $50 per guest
Breakdown
Northern Maine Regional Airport at Presque Isle (PQI)
Bow, Rifle, Muzzleloader, Crossbow
Accommodate Disabled Clients?