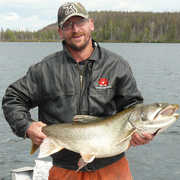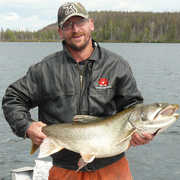 Fishing
Fishing at Saskatchewan (SK) is a Fishing trip.We are fishing

Trout, Pickerel, Lake Trout and Northern Pike

.
Description
The main focus of the lodge is fishing for Trophy Northern Pike and Trophy Lake trout. We have many other activities such as swimming on our sandy beach, exploring the backcountry and much more, which will make for a fulfilling wilderness vacation that will leave you with memories to last a lifetime.
Pricing Details
2016 Rates
All prices are in Canadian funds - Exchange Rate Caculator
We currently have two separate packages available for you.
PACKAGE #1 - Full American Plan - $2000 cdn. per person
4 Days / 4 Nights Lodging with all bedding, towels, etc. supplied Home cooked meals by our resident chef Filleting and freezing services included 16' Lund boats with 2012 electric start Tahatsu motors 21' pontoon boat with 40 horse Suzuki motor Return airfare from and to Missinippi, SK $275 CAD per person / day for each additional day $600 deposit, per person, required at time of booking
PACKAGE #2 - $2175 Canadian Same as Package #1 only return airfare from and to La Ronge.
Breakdown
Trout, Pickerel, Lake Trout, Northern Pike
Accommodate Disabled Clients?