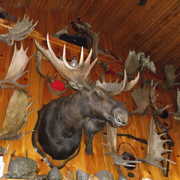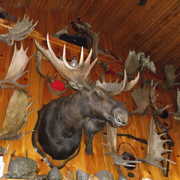 Spring Black Bear Hunting in New Brunswick, Canada
Spring Black Bear Hunting in New Brunswick, Canada at Doyles Brook, New Brunswick (NB) is a Big Game Hunt that starts on May until June.We are hunting 

Bear and Black Bear

.

Costs from

 $2,199.00

 to

 $2,199.00

.
Description
Canada Spring Bear Hunt Includes: 5 days, 6 nights accommodation, hearty meals, experienced guide service and housekeeping.
Bear Bag Limit: 1 bear per licence Max license: 2
We have a very healthy bear population. When you're not out black bear hunting you can fish or just relax with the rest of your party by the fire or on one of the verandas overlooking the Miramichi River.
We maintain many bait stations and our bear baiting methods have be tried, tested and consistently successful. All of our bear hunting clients see bears and our hunting lodge has a near perfect harvest success rate. We are always on the lookout for new sites that might offer even better bait stations. Our bear hunting guides know the woods of the Miramichi River like the back of their hands, and you would be hard-pressed to find any that are more experienced than they. A hunting trip on the Miramichi River is a sportsman's dream come true!
On the day you arrive, a light lunch of sandwiches and sweets are
Pricing Details
Price: $2199 USD per person 2nd Bear Price: +$750 USD Bear License: +$163 CAD per license Salmon fishing: +$150/half day Airport pick-up and delivery: +$150 Bear Bag Limit: 1 bear per licence Max license: 2
Terms & Conditions
Payment Information
Hunt Packages are non-refundable
Packages booked within 30 days of the hunt must be paid fully at the time of booking
No credit cards. Cash, checks, and e-transfers accepted
Cancellation Policy
No rain checks unless schedule permits
Cancelled hunts are not refunded, but a replacement may be found
Gratuities
Customary, but not required
Guides: 15-20% of the hunt price
Cook: $50 per guest
Breakdown
Greater Moncton International Airport (YQM)
Bow, Rifle, Muzzleloader, Crossbow
Accommodate Disabled Clients?