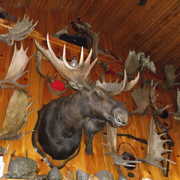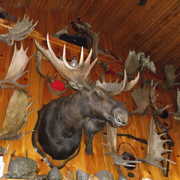 Moose Hunting in New Brunswick, Canada
Moose Hunting in New Brunswick, Canada at Doyles Brook, New Brunswick (NB) is a Big Game Hunt on 

public land

.We are hunting 

Moose and Eastern Moose

.
Description
NB Moose Hunt: Includes: 5 days, 6 nights accommodation, hearty meals, experienced guide service and housekeeping.
Moose Bag Limit: 1
License by draw only

You can apply from February 4th to April 26th to win one of 50 non-resident moose licenses up for grabs. Please visit our site or give us a call for more details.
On the day you arrive, a light lunch of sandwiches and sweets are waiting for you. Each day, breakfast is served at the crack of dawn. You'll head straight out to the woods after that. A packed lunch will be enjoyed in the woods. A home-cooked supper is served back at the camp between 6pm and 7pm.
Pricing Details
Price: $5999 USD per person Moose Hunt License: +$548 CAD Airport pick-up and delivery: +150 Moose Bag Limit: 1 License by draw only
Terms & Conditions
Payment Information
Hunt Packages are non-refundable
Packages booked within 30 days of the hunt must be paid fully at the time of booking
No credit cards. Cash, check, and e-transfer accepted.
Cancellation Policy
No rain checks unless schedule permits
Cancelled hunts are not refunded, but a replacement may be found
Gratuities
Customary, but not required
Guides: 15-20% of the hunt price
Cook: $50 per guest
Breakdown
Greater Moncton International Airport (YQM)
Accommodate Disabled Clients?